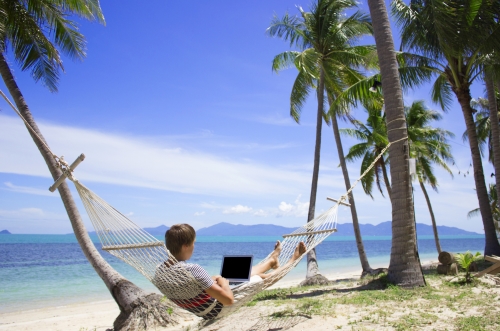 The effects of Digital Darwinism are being felt by enterprises the world over. The business world has always been governed in cut-throat "survival of the fittest" terms, but, as the relentless barrage of transformative technology continues to disrupt markets on every level, what constitutes a business as being the "fittest" is quickly being redefined.
Take the entertainment retailer and self-declared "Top Dog for Music" HMV, for instance. Here a company that once dominated the music retail market – and later gaming, video and DVD retail markets – became a most notable victim of Digital Darwinism, calling in the administrators in January 2013. Its failure is epitomized in the words of Managing Director Steve Knott during a meeting with HMV's advertising partners some ten years previous. The story goes that upon being warned that among the greatest threats to HMV were music downloads and online retailers, Knott shut the speaker down, barking angrily, "Downloadable music is just a fad and people will always want the atmosphere and experience of a music store rather than online shopping."
Its failure to evolve in a fast-changing market – changing consumer demand, changing technology and changing competition – ultimately left HMV whimpering to the administrators with its tail tucked between its legs.
This is the problem that Digital Transformation is trying to solve for the modern enterprise.
What is Digital Transformation?
Let's begin with a concise definition: Digital Transformation refers to all of the changes associated with the application of digital technology on all aspects and operations of an enterprise.
It's important, however, that it is fully understood what is meant by "Transformation". Transformation does not mean a mere shake-up of processes, the exploration of one or two new marketing or sales avenues, nor even the diversification of current offerings. No, transformation means a fundamental, wholescale change to the very foundational components of the business – from its infrastructure to its marketing models to its operating processes, and even to what it sells and to whom.
But let's not forget the "Digital" element. Digital Transformation involves harnessing the combined powers of the four great digital disruptors of our time – social media, analytics, mobile, and the cloud (known collectively as the "Third Platform") – in order to transform the business from its current state, and ultimately save it from the onslaught of Digital Darwinism.
What Problem Is Digital Transformation Trying to Solve?

 
Let's be clear: businesses don't one day embark upon a Digital Transformation overhaul through choice – rather through necessity.
In order to stay competitive in continuously-evolving markets, it is necessary that enterprises keep pace with technological disruption – in fact, it's imperative. Businesses need to be continuously embracing new online marketing channels, bringing new digitally-evolved products to market, refreshing the value propositions of their offerings, and utilising cloud technologies to enable scaling and globalisation at pace. Indeed, it is only with Digital Transformation that businesses will continue to be able to reach new sets of customers and increase the lifetime value of existing ones.
HMV needed Digital Transformation. Continuing to base its business model around in-store customers buying expensive CDs and DVDs, when consumer demand had monumentally shifted in favour of digital downloads and online streaming, meant that its doors were always doomed to shut eventually. Indeed, by the time the retailer decided to reinvent itself, iTunes, Netflix and all the rest were already in ascendancy, and HMV was no longer "Top Dog".
Today's digitally empowered, mobile-ready, 2016 consumer causes many problems to the enterprises which aren't equipped to cater for modern needs and demands. These problems manifest themselves through loss of custom (to digitally equipped competitors), inefficient marketing, poor consumer insights, and an inability to scale.
And it's not just in retail where these difficulties are felt. Financial services, telecoms, media, marketing, aerospace & defence, travel & leisure – in fact, there's barely an industry landscape in 2016 that isn't undergoing rapid digital revolution as you read this, and indeed none that will forever be impervious to Digital Darwinism.
What is the problem Digital Transformation is trying to solve? The answer is simple – the problem of businesses in all sectors going the way of HMV through failure to evolve.
The Advantages of Digital Transformation

 
Of course, Digital Transformation does more than simply rescue enterprises running on dated models from a doomed path – the digitally transformed business is set to reap huge benefits and advantages as it finds its place in an evolved and internet-dependent marketplace.
Here are five key advantages of Digital Transformation for the enterprise.
       Enhanced Customer Acquisition and Retention
Losing custom to emerging, digitally evolved competitors is a real threat to the modern, established enterprise that is still relying on legacy marketing operations – and even more so for those that haven't been constantly refreshing their products and services in line with advances in technology and consumer expectation. Digital Transformation will reinvent the offerings and the reach of such enterprises, providing access to larger online markets that are currently out of reach.
     Streamlined Workflow and Operations
A digitally transformed business has powerful technology oiling the machinery behind internal operations, enabling teams to collaborate seamlessly across departments, and streamline communications across a whole workforce and supply chain. The ability, for instance, to share material and inventory data from the warehouse can quickly and efficiently determine production levels and shipments from the manufacturing plant. This level of digital structuring on every operating level enables accurate sales and income forecasts, which in turn facilitates the company's ability to plan for future growth.
     Greater (i.e. Global) Reach
It is the advancements in digital technology that have enabled the globalised marketplace. Recent advances in cloud technology in particular have removed barriers to entry for even the smallest companies, whose growth now is only limited perhaps by ambition or access to funds – for the technology is there for them to expand as far and wide as they like. Geographical location is no longer an issue for a growing company, as cloud resources are accessible anywhere with an internet connection. Communication processes – even across borders – are streamlined and comprehensive through the use of cloud-based and often freely-available collaboration tools. Software resources can be distributed to a worldwide workforce, all the infrastructure a rapidly-expanding company needs is a simple click away, and the storage, security and backup recovery of a business's digital assets are all safely handled by cloud service providers. In short, with Digital Transformation there is no limit to a company's world-wide reach.
     Gained Insight and Foresight to Improve Management and Marketing Decisions
A Digital Transformation program will streamline management on every level. Digital tools will gather, analyse and visualize (graphs, charts, etc.) data gathered from every corner of the enterprise. From this, predictive models will be produced to help CxOs and managers identify business opportunities and risks. All equipment and machinery will be analysed in such a way, which will aid in the formation of the most effective maintenance programs to prevent breakdown. Consumer behaviors will also be analysed to predict the next market trend. The hottest sales leads can be reliably identified early in the sales cycle. And areas of workflow inefficiency in production chains can be recognized and singled out for improvement.
     Speedier Development of New Products and Services Going Forward
Businesses that need Digital Transformation are those that have not kept up with the pace of market, technological and competitor evolution. Once they have embarked on the process to put themselves back in the game, they will then need to make sure that they don't start slipping behind again. The implementation of modern systems and technology will aid in the market research, production and subsequent sign-off of all new services, campaigns and products, ensuring that, once regained, their place in the modern market does not later give way once more.
Is your business embracing Digital Transformation? Take a look at the LeadSeed sales and marketing platform – our technology can help you identify and convert more qualified business leads with ease, and ensure that your business does not succumb to the fate of Digital Darwinism. Get in touch today to find out more.